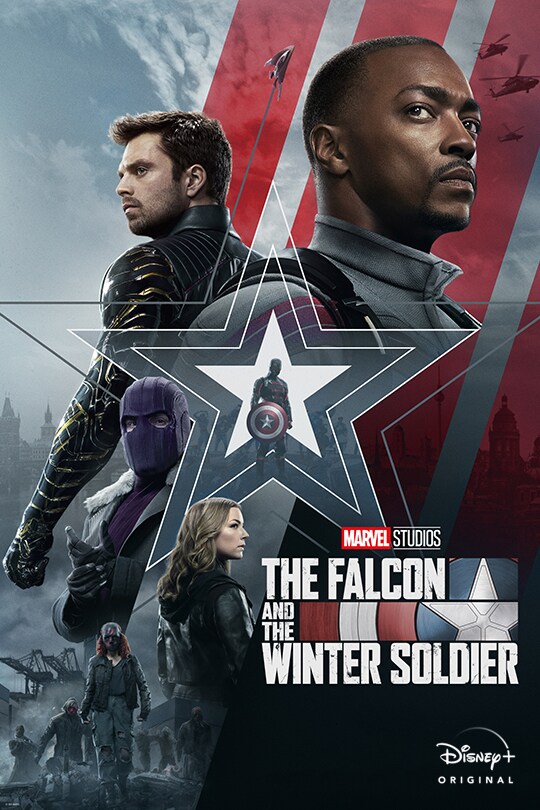 You know how sometimes you eat until you're full, yet you're still craving that something missing? That's how I felt about the finale of Falcon and The Winter Soldier. This series was an origin story to ease us into seeing The Falcon, a black man, as the new Captain America. Falcon tried to walk away from the mantle after it was thrust upon him by Steve Rogers. In the process of the buddy cop redemption of Bucky, Sam Wilson came to learn the background behind the super soldier serum and wrestled with what was needed from him in the post-Blip era. In the end, he stepped up to the shield and accepted the conflict-filled idea of a black man carrying it.
The writers tried to do a lot– address racial justice, resettlement, wealth inequality, mental health, atonement, and the use and maltreatment of the military in six episodes. The finale ended up feeling rushed and anemic. Overall, I would give it an 7.5/10. But, seeing Isaiah Bradley properly honored for the injustices done to him makes up for any deficiencies in the rest of the story. It was almost cathartic to see him no longer be denied and in the shadows. Can we please get a a one-shot of the fight between Isaiah Bradley and Bucky? Please.
Seeing how many racists went running on the internet during every episode of this show, this miniseries was as much to make the fans comfortable with Sam as Captain America as anything else Marvel hoped to accomplish. Perhaps in Phase 4 of the MCU, we will not have to deal with people complaining about how they just can't see anyone other than Steve Rogers as Captain America.
The series also set up the Young Avengers and, perhaps, the Thunderbolts. We'll see if they show up in Phase 4. It clearly set up John Walker as US Agent, so we can expect to see him again. But, what about the other Flag Smashers? Are we sure Karli Morgenthau is dead? And, what of the Flag Smasher in the river at the end? Seems like that could be the start of the next Captain America movie.
Sam read the GRU's leadership for filth for not questioning why the Flag Smashers had gained so much sympathy around the world. Given climate change, food and water insecurity, and growing wealth inequality, we all need to be giving thought to what the world looks like when borders and existing power structures are challenged. Can we be "One World, One People", or are those only the musings of a misguided teenager?
As I said before, Marvel did well with this series. The whole Flag Smashers plot both took up too much bandwidth yet was inadequately serviced, but this was more about Sam's journey. Though there was a lot of build up to Sharon as Power Broker, she felt pointless in the end. I just don't buy her as a morally gray character. Aunt Peggy would be so disappointed. But, yo, she can fight and I am excited to see more of her and of Madripoor. Speaking of Madripoor, why does Marvel seem to have a singular view of Asian cultures??? Do they all have to be cyberpunk speedruns? The scenes in Black Panther wasn't the best and neither were those in Madripoor. The only series that hasn't had a ton of complaints was Daredevil and I am not even sure that I just didn't see them. I am holding out a bit of hope that they do better with Shang-chi and The Ten Rings. I hope Marvel is listening to the fans.
*fingers crossed*
Everyone is enjoying The Falcon & Winter Soldier, right? The show has stimulated some good awareness of the atrocities committed against Black people (note, everything is not about the Tuskegee experiment.) Once one tragedy enters the public awareness, we have a tendency to run it into the ground. We still need to have a larger, deeper conversation about the treatment and atrocities committed against Black soldiers, which is really the lesson of the story of Isaiah Bradley. Black soldiers, still in the midst of the inhumane treatment during the Jim Crow era, were used, abused, and treated like cannon fodder in pursuit of the country's anti-imperialist conflicts, while treating Black soldiers little better than beasts of burden. Many were left broken with little recompense and recognition for their monumental sacrifices. Carl Lumbly has done a superb job portraying the pain and resignation of a man who had his hope crushed and, then, turned in on itself. Resulting in him just trying to eek out the small, peaceful life of someone who just desires to be left alone. Everything was taken from him.
While we have been exploring and analyzing the racial context and messages in The Falcon and Winter Soldier, I haven't seen anyone address Karli Morgenthau's blackness/biracialness. On the innanets, people seem to really dislike the character and struggle to follow the Flag Smashers' logic. Marvel Studios, to its credit, has built a fascinatingly diverse cast with chemistry that doesn't feel forced in any way. Karli's race has not been asserted in the show and I have to wonder how many viewers even realize that she is of Black/African descent. I knew she was Black right away, as I will assume most Black viewers did. We come in infinite combinations and most of us learn from a young age to identify each other in the most subtle ways. Interestingly, in the television show, Karli was intentionally gender-swapped and de-aged from the comics by the showrunners to provide more representation for young women.
The Flag Smashers represent an issue that doesn't receive attention in the United States very often. Internally Displaced People (IDPs) are escaping crime, armed conflict, coups, food insecurity, and other threats to their survivals in their own countries, different than refugees. The most similar experience we have had in the United States is the aftermath of Hurricane Katrina. In the case of the Blip, all governmental and civil society infrastructure was disrupted for 5 years. When things came back, people understandably started to rebuild things as they had been, old power and wealth structures. Some of those who had been left behind didn't want to go back to the old ways, instead they thought things were better during the Blip. In the show, the Patch Act is in the process of being voted on, which would return all of the stateless to their previous countries, which many did not want nor did the camps have the capacity to handle. The Flag Smashers were attempting to stop it, by violent means if necessary, and would perhaps be appropriately described as anarcho-terrorists.
Given that Karli's racial identity hasn't been addressed in the show, but assuming that she is mixed race from the UK as the actor is, it stands to wonder whether there is another story to be told. Is there an expected allegiance between Sam and Karli because of their potentially similar experiences with discrimination? Does she hold back on harming him and his family because of familiarity? What does it mean to her to see a Black Captain America, especially given her experiences with imperialism and authoritarianism. Sam empathizes with her motivations, but not her tactics. He connected with her, but the conversation was cut short, unfortunately. He explores his shared experiences regarding Isaiah, but what about with Karli? Is he willing to end her life to stop her?
They chose Erin Kellyman to play this role for a reason. In Episode 4, her compatriot said that he didn't think there could be another Captain America until he met her. As the old saying goes, one man's terrorist is another man's freedom fighter. It didn't resonate on the first watch, but looking at it through the dual lenses of race and gender, she was another Black Captain America. As Sam wrestled with John Walker, Bucky, and Isaiah Bradley, it just feels like the writers left something on the table. But, in six episodes, that would have been asking a lot.
Overall, the writers have knocked it out of the park so far. You know you dun gud when racist fans are mad and calling you SJWs all over the internet, as if social justice hasn't been at the core of Marvel since the beginning. Fun fact, over half of the series' writing staff are Black.
So, what say say you? Does her background matter? Do you want to know more about Karli and the rest of the Flag Smashers? Do you empathize with their goals?
One more episode left. The finale is April 23, 2021 at 3:01AM EST. Are you staying up to watch?
P.S.
In a March 18, 2021 Deadline interview between Anthony D'Alessandro and Malcolm Spellman, Malcolm said this:
Can you tell us about the specific details of the pitch you fumbled?
I'll tell you at the end of the season. I really want somebody to get Kevin to talk about the original run because it was so on point. It was so on point it was like 'Oh, no, we can't do that.'
WTheck does this mean??? Are we going to get the Spellman cut at some point???
Aka When They Try to Touch Your Hair. Get 'em, Ayo!
This scene spoke to my soul. How many times has someone invaded your personal space without permission? These "pointy sticks" are made of vibranium, Great Value Captain America. And, Bucky thinking his interceding would somehow stop the fight? Nope, you can catch these hands too, Buck. LOL
Thankfully, this hasn't happened to me in a long time, but I still have shower moments when the memory of when I didn't check someone for stroking my hair. It was in a professional context, so I was caught a little off balance. The act sent an actual shiver down my spine. I let the whole culture down by not saying something. I'm sorry y'all.
May we all bring this Solange energy into 2021.